Meta Generator Version Check Extension
Meta Generator Version Check is a web browser extension that checks the meta generator tag, that is sometimes placed in web pages, to see if it the web page is generated from an outdated version of web software. It is available for Chrome.
It currently includes warnings for:
WordPress versions prior to 4.1
Joomla versions prior to 3.3.6
MediaWiki versions prior to 1.19.23, 1.23.8, and 1.2.4.1
vBulletin versions prior to 4.2.2
TYPO3 version 4.6, 4.7, 6.0, 6.1, and versions prior to 4.5
Movable Type versions prior to 5.17 and 5.2.10
concrete5 versions prior to 5.6.3.2 and 5.7.3
SPIP versions prior to 3.0.16
Exponent CMS versions prior to 2.2.3 and 2.3.1
Zinnia versions prior to 0.15.0
Revive Adserver (formerly OpenX) versions price to 3.1.0
WooFramework versions prior to 5.4.2
If you see that we are missing a check for software that provides a meta generator tag with version information please let us know so that we can include that in the extension.
You can keep track of what versions of concrete5, Joomla, MediaWiki, Revive Adserver, SPIP, TYPO3, and WordPress are running on all of the websites you manage with our Up to Date? Chrome app.
The extension is localized for the following languages: Arabic, Bulgarian, Catalan, Chinese (Simplified), Chinese (Traditional), Czech, Danish, Dutch, Finish, French, German, Greek, Hebrew, Hindi, Hungarian, Indonesian, Italian, Japanese, Korean, Norwegian (Bokmål), Persian, Polish, Portuguese, Romanian, Russian, Serbian, Slovak, Spanish, Swedish, Thai, Turkish, Ukrainian, and Vietnamese.
Screenshot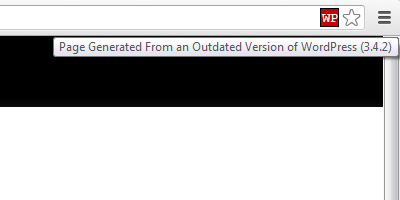 Report an Issue
To report an issue please email us at extensions@whitefirdesign.com.
Need Software on a Website Upgraded?
We perform upgrades of concrete5, Drupal, Joomla, Magento, MediaWiki, Moodle, phpBB, PrestaShop, Revive Adserver (OpenX), TYPO3, WordPress, and Zen Cart.