SiteLock is a web security company that we had originally became aware and wrote a number of posts about due to our seeing the poor quality of their services when working on client's websites that had previously used their services. Due to those posts we started started getting contacted about more serious issues with them, namely that in a lot of cases they seem to be scamming people. One of the things that has stood out to us in looking into the situation was the fact that so many web hosts have partnered and continued to stay partnered with them. Was the money that we assumed SiteLock was paying them for the partnership worth the damage to their reputation, seeing as in complaints about them the web host who had partnered with them is frequently brought up?
In looking for some information for another post about the company we ran across the fact that the CEO of a major web hosting provider is also the one of the owners of SiteLock (the other owner is a director of the same provider), which does a lot to explain their partnerships and also raises even more question as to the probity of what is going between them.
On the about page of SiteLock's website there is no mention of the ownership of the company, doing a Google site search of their website didn't bring up any mention of either of the two entities that appear to be their parent company.
On the website of one of those, UnitedWeb, SiteLock is shown as one of their brands of the company, while the web hosting companies Endurance International Group and IPOWER are listed as public companies:
The connection between of all of those entities isn't clear based on that, though.
A little searching brought us to this page that seemed to point to a direct connection between SiteLock and Endurance International Group, which with more checking seems to be confirmed. In Endurance International Group latest quarterly report it states that:
The Company also has agreements with Innovative Business Services, LLC ("IBS"), which provides multi-layered third-party security applications that are sold by the Company. IBS is indirectly majority owned by the Company's chief executive officer and a director of the Company, each of whom are also stockholders of the Company.
What is Innovative Business Services? That is the entity that owns SiteLock (referred to as a member on that page). So the CEO and a director of Endurance International Group are the owners of SiteLock.
It not clear where UnitedWeb falls in that, but it looks like it might be the owner of Innovative Business Services, and then in turn that is owned by the CEO and directory of Endurance International Group.
Unless you are very involved in website hosting you probably don't recognize the name Endurance International Group, but they own many well known web hosts. The brands page of their website they highlight some of the more high profile ones including A Small Orange, Bluehost, FatCow, HostGator, iPage, and IPOWER: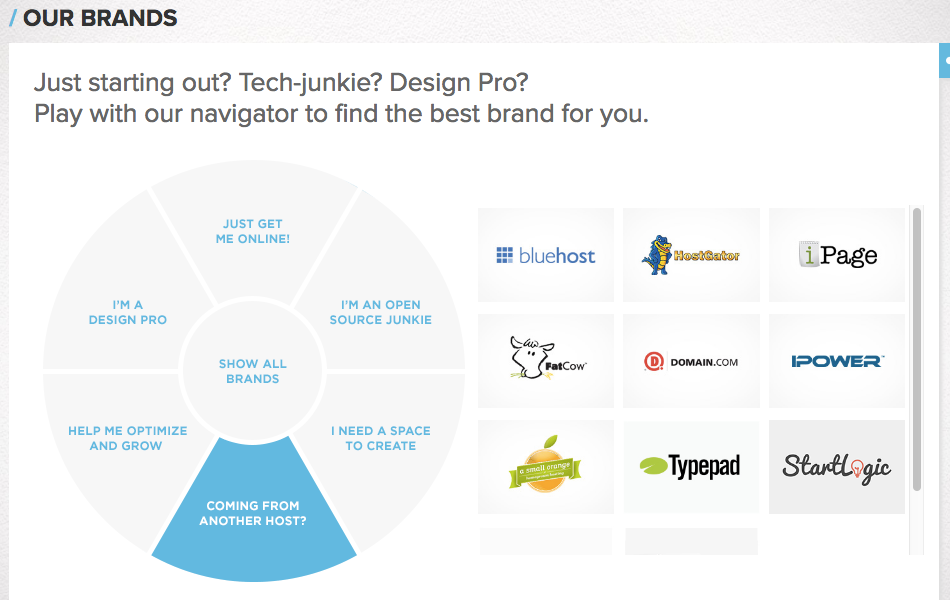 But that just scratches the surface, here is the all of their current brands (most of them appear to be web hosting companies) as listed on the Wikipedia page for the company:
2slick.com
AccountSupport
Arvixe LLC
A Small Orange
ApolloHosting
AppMachine
Berry Information Systems L.L.C.
BigRock
BizLand
BlueBoxInternet
BlueDomino
Bluehost
BuyDomains
CirtexHosting
Constant Contact
Directi
Dollar2Host
Domain.com
DomainHost
Dot5Hosting
Dotster
easyCGI
eHost
EmailBrain
EntryHost
Escalate Internet
FastDomain
FatCow
FreeYellow
Glob@t
Homestead
HostCentric
HostClear
HostGator
HostNine
HostMonster
HostV VPS
hostwithmenow.com
HostYourSite.com
HyperMart
IMOutdoors
Intuit Websites
iPage
IPOWER/iPowerWeb
JustHost
LogicBoxes
MojoMarketplace.
MyDomain
MyResellerHome
MySocialSuite
NetFirms
Networks Web Hosting
Nexx
PUBLICDOMAINREGISTRY.COM
PowWeb
PureHost
ReadyHosting.com
ResellerClub
Saba-Pro
SEO Gears
SEO Hosting
SEO Web Hosting
Site5
Southeast Web
SpeedHost
Spertly
StartLogic
SuperGreen Hosting
Typepad
Unified Layer
USANetHosting
vDeck
Verio
VirtualAvenue
VPSLink
Webzai Ltd.
WebHost4Life
webhosting.info
Webstrike Solutions
Xeran
YourWebHosting
---
A Better Alternative to SiteLock For Cleaning Up a Hacked Website
If your web host is pushing you to hire SiteLock to clean up a hacked website,
we provide a better alternative
, where we actually properly clean up the website.